Description
You are looking for a Unique Piece of French Leather Goods with beautiful golden jewels? From a Timeless Bag Collection, as my customers remind me, with the quality of its leathers, and finishes. The House CouleurSedona has everything to please women who like to assert their style with a beautiful Handbag made of exceptional leather, and seen nowhere else.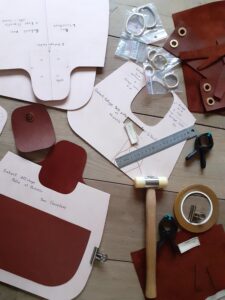 An Exceptional Leather Handbag for Women
The Best Seller of the brand, our L'Excellent Handbag. Unique with its Canyon Color Camel Leather, it remains the best compromise with a very chic color and very easy to match. When opening the bag we love the velvet interior with its flat pocket and storage pocket. Its jewels make it even more beautiful while remaining sober and discreet, with its medium volume just perfect.
Gold-plated Accessories – Made to measure in France
With an exceptional Know-how recognized by the French Art Trades. We take care of the finishing touches by applying dye to the leather slices with a small brush. The rings and small flat eyelets gilded with fine gold are made to measure for my brand in a workshop in France. The piercing and the installation of the rings are carried out in an Artisanal way on a manual press. At the end, I apply a nut-fixing product on the net to fix the rings. Couleursedona offers you an authentic bag with a mix of flat stitching and hand stitching. We take the time to make each step of your Handbag until the final packaging.
Allure with the simplest of outfits
It shines with jewelry! This unique piece of leather goods is hand-carried and slips easily over the shoulder. It can be worn with evening wear or with casual looks. A pleasant feeling to the touch with the softness of the velvet inside. We like its discretion and elegance, the CouleurSedona logo hot-stamped on the leather.
The perfect compromise between luxury and leisure
For all modern women looking for a high quality luxury bag. For customers who love beautiful things, who like to assert their style during festive or private events, with a very original fashion accessory. For all those who appreciate the creation, the handmade pieces and in an ethical, Eco-responsible spirit. Also for men looking for a unique, luxurious gift for their sweetheart.
Care of your Canyon Camel Leather Bag
This full grain leather bag requires very little maintenance, but you must know how to take care of it. Avoid carrying very heavy objects that would deform your bag. Protect your bag from rain, heat and prolonged exposure to the sun. If it has been rained on, let it dry well in a temperate room, ideally with white tissue paper inside. Please do not use soap or solvents. For storage, we advise you to store it flat in its fabric pouch offered in a dry place away from any humidity. You can use a special milk for leather care, with a soft lint-free cotton cloth. Spread a small amount of cream on the cloth and gently apply to the leather in circular motions. Let dry and wipe gently.