CouleurSedona create from A to Z High Quality Leather Bags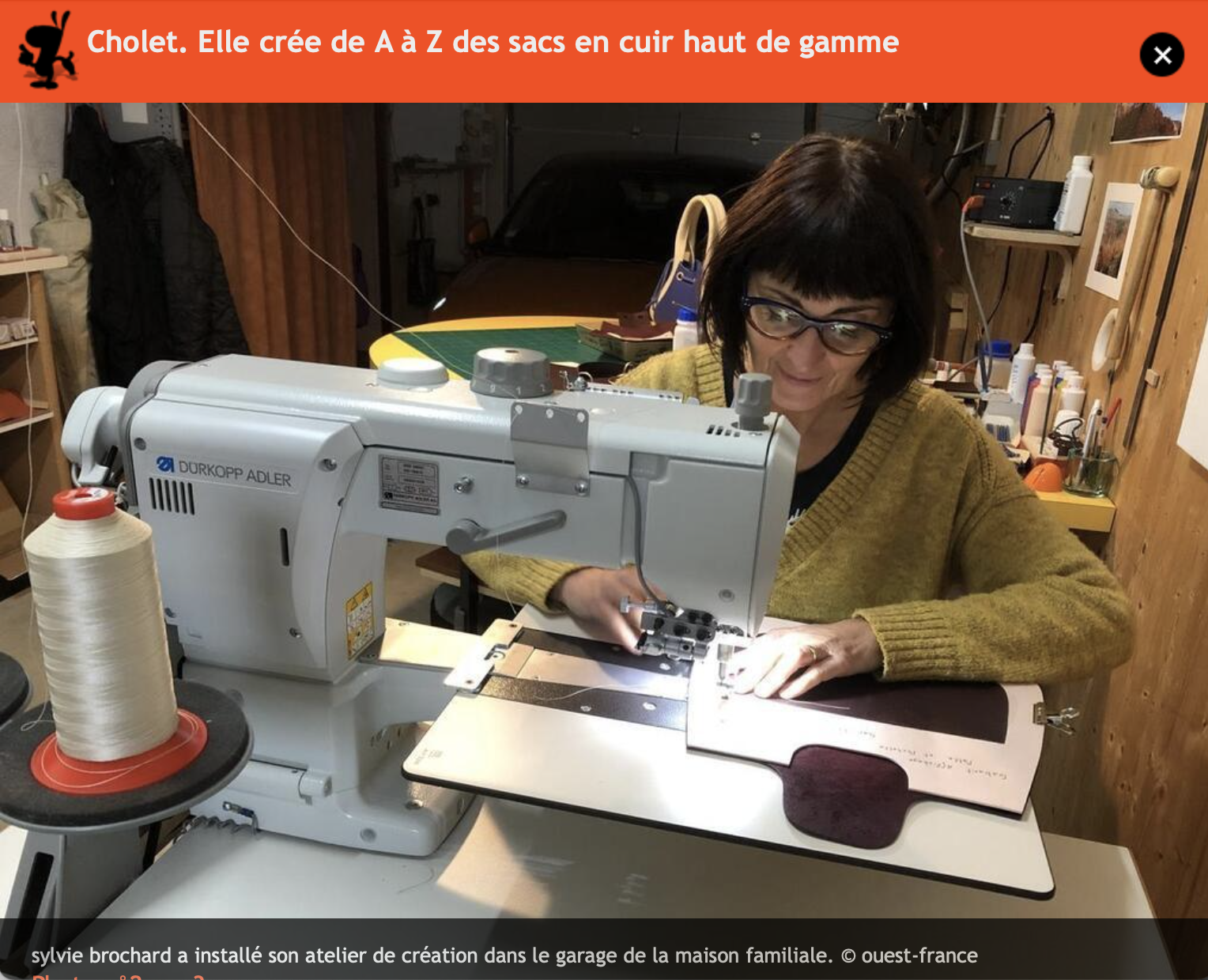 Article Ouest France – Leather goods in Cholet – Pays de Loire
https://www.ouest-france.fr/pays-de-la-loire/cholet-49300/cholet-elle-cree-de-a-a-z-des-sacs-en-cuir-haut-de-gamme-7103972
She creates from A to Z high quality leather bags.
Sylvie Brochard, a resident of La Séguinière launched her brand CouleurSedona two years ago. She designs and sews handbags in a space set up in her garage near Cholet.
Precious handcrafted pieces that she imagines, draws and cuts with a cutter using templates. I love leather". I love leather, marked with imperfections that create nuances on a bag. She selects her skins only from grained leathers that show natural asperities according to the models envisaged. Calf, cow, camel, goat … rather thick skins, always "of very high quality … I do not put cardboard reinforcements, or lining," she says. When she goes to buy from a wholesaler in the region, she hopes to find "nuggets" from, for example, Maisons de Luxe's destocking.
"I've acquired know-how, and I wanted to give meaning to my career. I didn't want to be confronted with the notion of productivity anymore. I think that a luxury product should be respected and that we should take the time to make it. "
Sylvie designs her first model. I bought a piece of leather, I designed a handbag and I sewed it… by breaking a dozen needles and the sewing machine of her mother.
She quickly invested in specific equipment and set up her work space. "I don't need much space, it limits the costs and it works like that! "
The CouleurSedona adventure starts with the Red Bag Le Rayonnant which becomes the Icon of the Brand. Followed by a timeless collection, with leather and thread colors that differ according to the desire of its customers. "I try to make chic bags that can be worn every day.
In addition to a commercial website whose referencing she is fine-tuning, she appears in specialized magazines, obtains a partnership with Made in France craftsmen's boxes, and also goes prospecting in the field with her suitcase. This has allowed her to build a network of stores in strategic, tourist locations where there are many people. This works well in medium-sized cities.
"To be known, it takes time".
She has no regrets, she likes the experience, it is rich. Sylvie opens her workshop to her customers by appointment, she particularly likes this authentic side which looks like her.