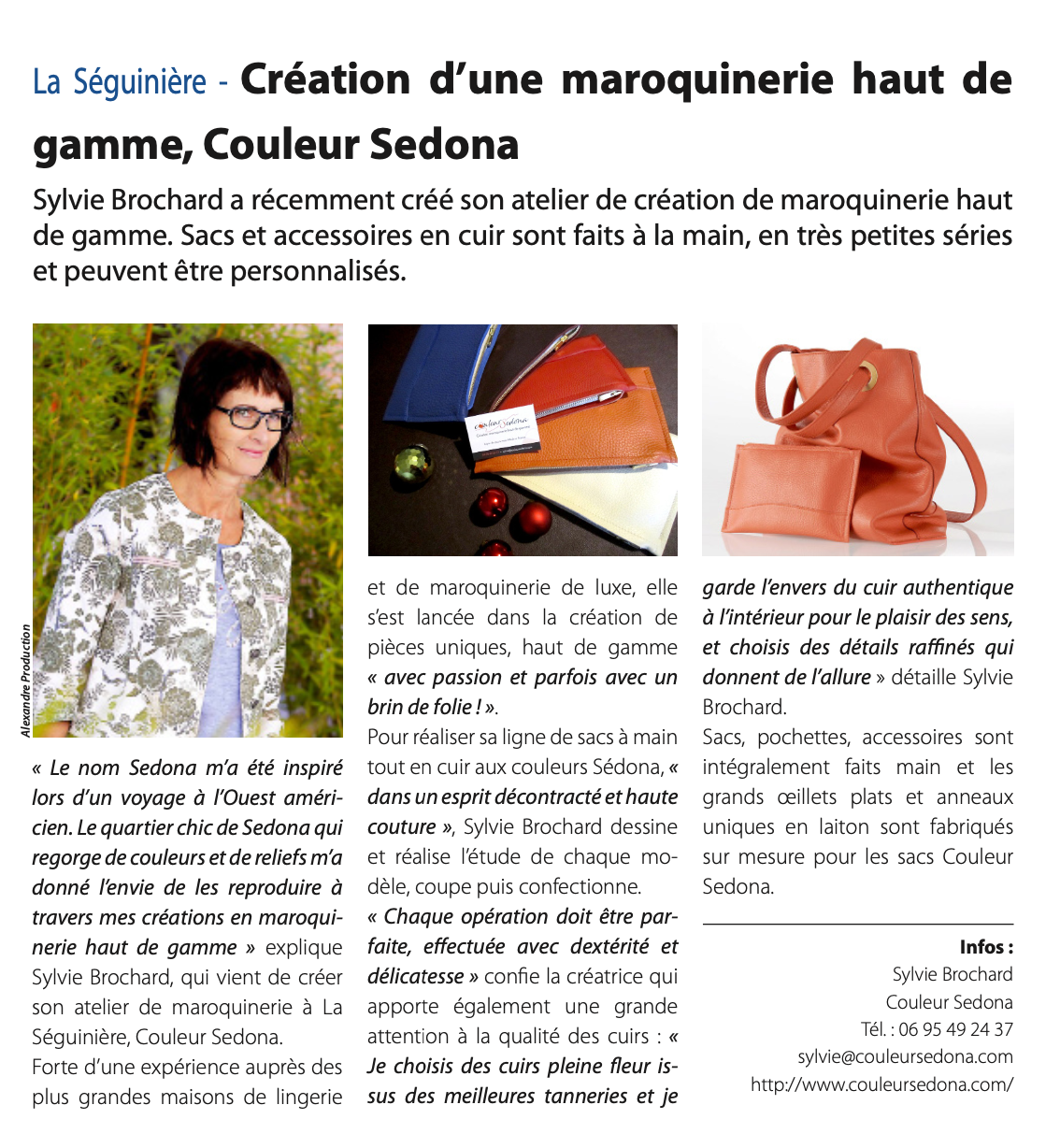 Meeting with the Choletais Synergence Newspaper for the article published on December 19, 2018, to present the new Leather goods Brand CouleurSedona founded in September 2018.
A look back at the designer's background
Following a career with the biggest lingerie and luxury leather goods brands, Sylvie develops her first prototype in full grain calf leather purchased from local factories.
From there, was born the first model of her creations of leather bags which she will baptize "Le Rayonnant", because of its color, its rounded forms, its elegant wear, and its personalized accessories in brass. For Sylvie, Le Rayonnant is the symbol of the beginning of the "CouleurSedona" adventure.
The color, one of the red threads of the creator who strives to bring cheerfulness in her creations, with a palette of colors that bring light and can adapt to all styles.
Sedona, the chic village in the American West where Sylvie and her family have traveled, is full of these radiant colors and reliefs, which she uses on her luxurious leather bags.
CouleurSedona strives to offer Made in France creations, with the idea of working as much as possible in short circuits with suppliers of leather, accessories and French leather goods.
The clasps, rings and eyelets are custom designed by the designer and made in France.
The cutting, all the stages of preparation, from the templates to the stitching to the finishing and packaging are done by hand, in an artisanal way. The brand "CouleurSedona" and the high-end leather handbags she offers, have recently earned her the title of professional craftsman of the Pays de la Loire.
CouleurSedona targets a female clientele in search of original, quality pieces that stand out for their colors, and highlights its artisanal know-how and the 100% made in France.
Atypical shop windows: in the window and on sale directly at the Hotel ***** Le Royal in La Baule, and in the window in the lobby of the Hotel ***** Le Normandy in Deauville.